Headteachers Blog
Regular updates while Whitmore High School is closed
June 15th 2020
I looked at my four-year-old. His hair was ridiculous. There was only one option, I'd have to cut it.
Now if you take a look at my photo, you can see that haircutting has not been a concern of mine for several years. But I thought, I've had my hair cut before, it can't be that hard.
I embarked on my quest, armed with some clippers, a brush, a Super Soaker (all I could find to wet his hair), kitchen scissors, and some supportive words from my wife. 'Don't you dare make his hair look like yours.'
Did it go well? No, it did not. After 20 minutes of hacking, he looked like he'd fallen through a hedge and the Queen of Hindsight (my wife) was telling me all the things I should have done differently.
So how does this relate to school? It shows how important it is for a teacher to model how to do something before giving pupils the chance to try it out themselves. Our major goal this year at Whitmore has been to emphasise the importance of outstanding modelling by teachers at the beginning of every lesson. This is always followed by the chance to practice chunks of the task with teacher support. Finally, once the teacher has checked for misconceptions, the pupils are then given the opportunity to work independently.
So, I tried this out for myself. I went on YouTube and watched a how-to video, trialled it on my own hair, and had a second attempt. Was it perfect? Not at all but Gryff seemed happy. I felt so pleased with myself that I asked if I could cut my wife's hair. She declined my offer.  I can't understand why.
June 8th 2020
I made the mistake last week of giving the boys a choice of what to have for breakfast. What followed was a microcosm of what I see on Twitter every day.
First came the polarised opinions.
'I want Shreddies' shouted Gryff
'I want Coco Pops' countered Vaughn with fury
This initial duel was then backed up with dubious facts and emotive language.
'We had Coco Pops yesterday and they are yucky' shouted Gryff. (Not true on both counts)
 'Gryff always gets what he wants and he kicked me.' (Again, not true)
Much like with Twitter, both sides refused, point-blank to listen to each other. They persisted to repeat their view with increasing anger and incredulity.
It is often said that Twitter gives everyone a voice, the problem is it doesn't also supply ears. Debate should not just be about shouting your opinion at the top of your voice with your fingers in your ears. The best debaters listen to arguments and respond to them with a logical riposte. I also worry that Twitter becomes a huge echo chamber, where due to your friendship groups having similar opinions to you, you end up in a cycle of everyone repeating the same points without access to the other point of view.
This is why I have been so excited by the work of the Whitmore High English department who have made debate and oracy a key component of the curriculum. Last year I observed several lessons where students learned to counter or build upon opinions, ensuring they had to listen first. The next step is to enter some debating competitions.
Now I'm sure you are wondering what the boys ended up having for breakfast…they had pancakes, everyone likes pancakes.
June 1st 2020
Exercise, reading a book, looking at my smartphone. Three activities that I spend a lot of time on during the lockdown. Which do you think is the odd one out?
It is of course the smartphone, the easiest way to waste any free time that you have. How can a device with almost unlimited access to information be so unfulfilling? But it is addictive.  Despite enjoying exercising or reading a book infinitely more than looking at social media, I often find myself drawn back into its web.
On Saturday I staged a mini self-intervention. The boys were watching Blaze and the Monster Machines (I like to pretend to myself that they learn Science through it) and I was on my phone Googling the best Michael Jordan dunks after an obsession with The Last Dance on Netflix. I thought to myself, is this really what you want to do in the precious time that the boys are not incessantly asking important questions such as, what's the biggest number in the world, and can whales eat sharks?
So, I picked up my book and 25 minutes later the programme finished. As you would expect, the questions started up again, 'Daddy, could Hulk Smash beat all the baddies in the world?' Strangely I felt ready to answer, by reading a book I had had an actual break. My brain had a chance to focus on something else completely and I felt much better from it.
With this in mind, during half term I will be imploring Whitmore High students to leave their smartphones in another room and read a good book. I have always believed that reading is one of the best ways to relieve anxiety and have a mental break as it requires you to focus on the words, giving yourself a chance to disconnect fully from any worries you have. Now, all I have to do is find one about Michael Jordan.
We have created a new webpage with all the learning resources for the summer term. It can be found here. https://www.whitmorehigh.org/facilities/learning/student-work-for-summer-term/. Please do not feel overwhelmed by the amount of resources. We have tried to make it as clear and logical as possible. Any concerns please contact Mr Kennedy at kennedym21@hwbmail.net.
May 21st 2020
Last year I floated the idea of buying a surf skateboard. To put it mildly, my wife was less than impressed. She argued (quite rightly) that no self-respecting head teacher should be going around a village on a skateboard. But I'm a big believer that you should never worry about what anyone else thinks of you, it's better just to enjoy what you like doing. So, I bought it.
Despite never using one before, I started to get the hang of it. At the ripe old age of thirty-six, I had gained a new skill. This week my 4-year-old learnt to ride his bike without stabilisers. He went through the same milestones as me such as falling off, hurting his leg, wanting to go home when it got difficult, but he persisted and got there in the end.
The odd thing is, we absolutely expect young children to acquire knowledge and skills at a dizzying rate but as we get older, we don't believe the same is possible for ourselves. There suddenly comes a time in our lives when it becomes acceptable to say things like, 'I'm not good at maths,' or 'I can't ride a bike.' But the reality is anyone, at any age, is able to gain new skills, they just have to be prepared to practise and not give up when things get difficult.
With this in mind, lockdown could be the perfect opportunity for everyone in your household to try and gain a new skill. With the aid of the internet, you can receive expert, free tuition on almost anything. So, if you have ever thought about learning to play the guitar, speak another language or even start to skateboard, there is no time like the present.
In addition, if you go on the school twitter account, there are a number of clubs that are being run virtually. The drama departments first online production, 'Shakespeare goes wrong' has featured a number of students. If you would like to be involved in further productions, e-mail Mr P at piekielniakl@hwbmail.net. The music department have also started up an online choir. E-mail Mr Hilbourne at hilbourned@hwbmail.net if you would like to take part.
May 14th 2020
This week I have resorted to bribing my eldest with surprises (toys), to get him to do his home schooling. There I've said it. I feel better for sharing.
After years of taking assemblies, exhorting the importance of being motivated by the acquisition of knowledge rather than for short term gains, I have changed my tune considerably during lockdown. But it has worked. Every day this week, my 4-year-old has rushed in to ask me if he can do his work. The average lesson has been 45 minutes per day, which might not sound like a lot but it is around 41 minutes better than before the bribery.
It really has made me think about the importance of short-term rewards for success. In schools, we ask a lot of pupils, expecting them to work hard every day for five years because at the end they will take GCSEs which can have a significant influence on their life chances. Imagine if in your job you were told, if you work hard for five years, you may get a promotion. This wouldn't be enough for most people. There is a reason why companies spend millions providing perks to influence employee motivation.
So, when the Whitmore School Parliament return to school, they will be asked to develop a new and improved rewards system, which will provide short-term milestones and rewards for hard work. By repeatedly succeeding in these short-term goals, I believe our pupils are more likely to achieve what they are capable of in their GCSEs.
Now I will admit there are a couple of concerns I have with my lockdown prizegiving approach. First and foremost, I worry about the possibility of toy inflation. Already he has asked if he can get bigger toys if he works really hard. I shut this down immediately but the question will come again.
Secondly, I want him to love learning because learning is fantastic as opposed to just wanting to get toys. But why are both things not possible? He will enjoy the short-term rewards for hard work whilst at the same time acquiring knowledge and skills that will allow him to learn independently in the future.
Right, I'm off to Tesco to buy their entire supply of Lego figures.
May 7th 2020
Something very exciting happened the other day. I was going about my usual lockdown routine of trying (and failing) to teach my four-year-old his number bonds at the same time as replying to school e-mails when, through the letter box, came advance news of the local "Event of the Lockdown" – an invitation to a socially distanced street party on Friday night. Now this is unheard of on our street, usually you would be lucky to get a nod or a quick conversation about a delivery, but Corona has changed everything. Everyone is looking for that opportunity to make connections with others.
A similar phenomenon is happening at Whitmore. This week, Year 8 students have produced a video, reading kind messages about how much they miss each other; our superb Head of Drama has made a fun video showing how not to keep healthy during lockdown and the Music Department are organising a virtual choir. I have always thought that school is much more than just a place for learning – students need the opportunity to interact with each other whether it be through a sports team, as part of a drama production or just by speaking to others in the canteen.
What's more, it is very hard to replicate this interaction virtually. I think I was so excited about the Street Party because it was the chance for face-to-face conversation. Any of you who meet using video calls for work no doubt are experiencing 'Zoom fatigue'. The early enjoyment of seeing people's faces is rapidly being replaced with the annoyance of everyone talking at once!
I really look forward to being able to safely open the doors to Whitmore again very soon. Until then, we will continue to produce resources to ensure students do not fall behind in their learning and we will keep communicating with you.
We absolutely understand the difficulties that families face with home learning. We have decided not to put a timetable for work as we do not want to create pressure and stress for parents and students. There are plenty of fantastic resources available on Whitmore Google Classrooms. Pupils can work through them at their own pace.  Any issues with logins please contact Mr Kennedy at kennedym21@hwbmail.net. I have also been really impressed with the lessons created by the UK National Academy. www.thenational.academy/
April 28th 2020
I had two Zoom video meetings with staff yesterday which was an absolute pleasure. I was delighted to hear about the hard work that the staff were doing at home. It was also just nice to speak to everyone again and see their faces…I've really missed them!
On that note, tutors will be contacting home over the next few weeks. This phone call is just to see how you are doing. We want to hear about your best garden game/your favourite box set/ the subject you have been enjoying /the work you are struggling with/whether you have kept up with Joe Wicks, etc, etc.
The plan is to speak to the parent or carer first and then, if there is the opportunity, speak to the student. We will only call between 9am and 6pm and it will be your tutor calling.
April 24th 2020
Day 40248 of the lockdown…I look back at my first blog where I talk about creating a schedule for my children and I feel real pity for my former self. He just didn't see what was coming! As you may expect, the schedule has gone out the window but I actually think we are better as a family because of it. I have four main aims every day…do some exercise, attempt to get the boys to do a bit of work, do some work of my own and enjoy having lots of family time. As much as getting woken up at 5am by Spiderman and Batman hurts, I know I'll miss it when everything gets back to normal!
More importantly, I am incredibly proud of the tremendous work over the last two weeks by the DT department at Whitmore High. Alan, Ian, Mark and John have been in school non-stop making masks and visors for front line staff which have been gratefully received.  Read the story below.
I want to thank all the Whitmore staff who have or will be working at the Primary Hub in Pendoylan School. We are repurposing ourselves as primary teachers and very much enjoying it! The staff are also focused on ensuring Whitmore High is even better when we come back and are tirelessly creating new and improved resources for their lessons. Next week we are increasing the number of Zoom video meetings to prepare for key topics such as transition, exam results and resources for the new building. To make sure my children don't videobomb every meeting, I'm planning to hide in my shed.
April 20th 2020
About a week ago I saw an advert for the new Trolls film that, due to Corona, would be on TV rather than be shown in cinemas. Fantastic! The boys liked the first one and I would get two hours of precious peace. Then came the painful realisation that it could only be rented for an extortionate £16. What person in their right mind would pay that amount to rent a film in their front room? Turns out, I'm that person and three days later I sat the kids in front of the telly, made them popcorn and hoped for the best. It went very well, they watched it twice so I felt I got my money's worth and I was able to reply to some e-mails.
I imagine many parents who are currently working from home are going through a similar experience. You need your children to be getting on with something to allow you to do your work but you don't want to constantly be getting them to watch TV or play computer games. We aim to help with this by making home schooling as simple as possible for your children which will allow them to independently work for a period of time.
Departments have created lots of tasks and projects to ensure students are able to effectively work from home. Please follow the school and departments on Twitter and keep returning to the website for further resources. In addition, there are two fantastic resources that are starting today. Firstly, the government have started the Oak National academy. (www.thenational.academy) This already has lots of very good resources which will be added to every week. The BBC have also created Bitesize Daily which looks great. (www.bbc.co.uk/bitesize)
March 30th 2020
We are now one week into self isolation and if I'm being honest, our home schooling has had decidedly mixed results. We went into it pretty confidently; my wife is a fantastic primary teacher and I'm a headteacher, surely the perfect combination for some fantastic learning. Well, the boys had other ideas…
We have come to three main conclusions:
Less is more. The temptation is to replicate a normal school day with 5 hours of learning. I'm lucky if I manage ten minutes of Jolly Phonics before a minor tantrum. But in that 10 minutes, Gryff normally learns something. The same goes for the children at Whitmore, a couple of hours a day using the right resources would constitute a great day of home learning.

Use the right resources. My lowest moment has been the apathy displayed by my children during the 'medal ceremony' of the Olympics that I spent half a day organising. There is no need to spend hours creating resources yourself as there are so many available. If you go onto the Whitmore High School website and Twitter page, you have access to fantastic resources that your children can work on. For example:
'The Great Welsh Challenge' for years 7-9 from the Welsh department

An Educake competition for year 10 for Science

Brilliant google classroom resources from Spanish for all year groups

An English 'good news' discussion on Google classrooms for years 7 & 8

Some exciting home learning challenges from Art
In addition, there are so many great celebrity resources being produced. I think the whole of the UK  have been attempting the Joe Wicks workout every morning. From what I've heard, Mr P had a great first day doing the workout and has been recovering since. Here is a list of a few classes that could get your children through the day.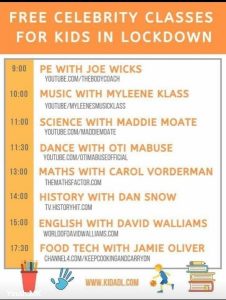 Don't be too tough on yourself. We all want to create great learning opportunities for our children but it is not easy to balance trying to work from home whilst keeping the house tidy and having any time for yourself. Yesterday my children watched four Spiderman episodes back to back whilst I was able to do some work. The world didn't end and everyone was happy!
Any issues accessing the school resources, please contact Mr Kennedy on kennedym21@hwbmail.net and he will help.
Innes Robinson
Head of School
March 23rd 2020
Dear all,
I must say that the school is feeling rather empty this morning! We have set up a provision for key workers and currently have a number of students attending. I would like to thank all of the staff at Whitmore for their positive reaction. They understand the risks but want to do their bit to help the NHS and other key industries.
One of the biggest challenges we will all face over the coming weeks is how to keep our children entertained and learning whilst at home. In the Robinson household, we have set up an activity rota for our two little boys. Most of the time they just want to run around being Batman but we are hoping a bit of structure will help!
Please see the Whitmore website for the fantastic resources that staff have created for your children. There are a number of projects that years 7-9 can work on at their own pace. My main advice would be to get your child to read for at least 1 hour per day. There are so many fantastic books out there that Amazon can deliver straight to you house. What a time to read all the Harry Potter books or to get into the Hunger Games! Alternatively, the English department have created a list of classic books you can read online for free. Online Reading List
There is a real need for Year 10 students to be more serious in their studies. They will be undertaking their GCSEs next summer and they will not want to fall behind. We have created superb revision packs that are on the website so there is no reason not to work from home.
I will be writing a weekly blog for the website to keep you all up to date with any developments, please feel free to call the school if you need anything.
Innes Robinson
Head of School