Headteachers Blog
Regular updates while Whitmore High School is closed
March 30th 2020
We are now one week into self isolation and if I'm being honest, our home schooling has had decidedly mixed results. We went into it pretty confidently; my wife is a fantastic primary teacher and I'm a headteacher, surely the perfect combination for some fantastic learning. Well, the boys had other ideas…
We have come to three main conclusions:
Less is more. The temptation is to replicate a normal school day with 5 hours of learning. I'm lucky if I manage ten minutes of Jolly Phonics before a minor tantrum. But in that 10 minutes, Gryff normally learns something. The same goes for the children at Whitmore, a couple of hours a day using the right resources would constitute a great day of home learning.

Use the right resources. My lowest moment has been the apathy displayed by my children during the 'medal ceremony' of the Olympics that I spent half a day organising. There is no need to spend hours creating resources yourself as there are so many available. If you go onto the Whitmore High School website and Twitter page, you have access to fantastic resources that your children can work on. For example:
'The Great Welsh Challenge' for years 7-9 from the Welsh department

An Educake competition for year 10 for Science

Brilliant google classroom resources from Spanish for all year groups

An English 'good news' discussion on Google classrooms for years 7 & 8

Some exciting home learning challenges from Art
In addition, there are so many great celebrity resources being produced. I think the whole of the UK  have been attempting the Joe Wicks workout every morning. From what I've heard, Mr P had a great first day doing the workout and has been recovering since. Here is a list of a few classes that could get your children through the day.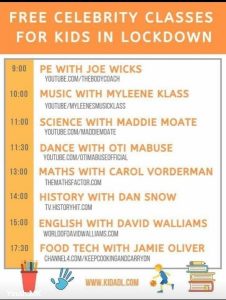 Don't be too tough on yourself. We all want to create great learning opportunities for our children but it is not easy to balance trying to work from home whilst keeping the house tidy and having any time for yourself. Yesterday my children watched four Spiderman episodes back to back whilst I was able to do some work. The world didn't end and everyone was happy!
Any issues accessing the school resources, please contact Mr Kennedy on kennedym21@hwbmail.net and he will help.
Innes Robinson
Head of School
March 23rd 2020
Dear all,
I must say that the school is feeling rather empty this morning! We have set up a provision for key workers and currently have a number of students attending. I would like to thank all of the staff at Whitmore for their positive reaction. They understand the risks but want to do their bit to help the NHS and other key industries.
One of the biggest challenges we will all face over the coming weeks is how to keep our children entertained and learning whilst at home. In the Robinson household, we have set up an activity rota for our two little boys. Most of the time they just want to run around being Batman but we are hoping a bit of structure will help!
Please see the Whitmore website for the fantastic resources that staff have created for your children. There are a number of projects that years 7-9 can work on at their own pace. My main advice would be to get your child to read for at least 1 hour per day. There are so many fantastic books out there that Amazon can deliver straight to you house. What a time to read all the Harry Potter books or to get into the Hunger Games! Alternatively, the English department have created a list of classic books you can read online for free. Online Reading List
There is a real need for Year 10 students to be more serious in their studies. They will be undertaking their GCSEs next summer and they will not want to fall behind. We have created superb revision packs that are on the website so there is no reason not to work from home.
I will be writing a weekly blog for the website to keep you all up to date with any developments, please feel free to call the school if you need anything.
Innes Robinson
Head of School